Real Estate At Your Fingertips.
Unlock your full potential and build generational wealth with the platform that gives you the power of real estate.
4.8 out of 5 stars in over 5,000 reviews
A community that cares.
Experience the DealMachine difference with our supportive, responsive community that truly cares about your success.
Join a network of like-minded professionals who are eager to share insights, collaborate, and help you thrive in the world of real estate investing.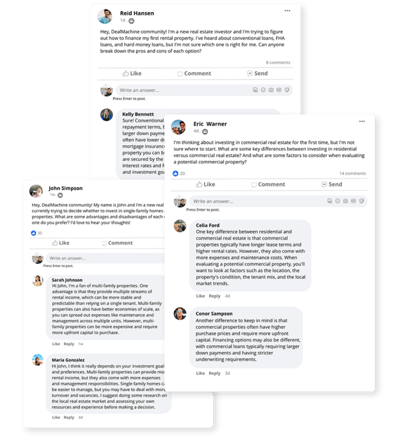 "We've been using DealMachine and the postcards to acquire properties that we ultimately flip,
and use the profits to fund the down payment of larger buy-and-hold buildings, and it's been an amazing tool.
I mean, closing on 4 to 5 flips right now, we're averaging 1 to 2 flips a month.
I couldn't recommend it highly enough to any other local investors, or any investors for that matter."
A solution for every investor.
Built for Wholesalers
DealMachine streamlines the real estate wholesaling process by allowing users to easily find and analyze off-market properties with its driving for dollars tools.
It helps wholesalers automate their marketing efforts and manage leads effectively, increasing the chances of closing deals faster and expanding their investment portfolios.
Flip properties faster.
DealMachine aids in flipping real estate by providing users with access to valuable off-market property data, helping them identify and secure profitable investment opportunities.
The platform's automation tools simplify marketing and lead management, allowing real estate flippers to efficiently connect with potential sellers and expedite the acquisition process.
Build your rental empire.
DealMachine empowers buy-and-hold real estate investors by offering access to off-market properties and valuable data for informed decision-making.
Its streamlined lead management and marketing automation tools enable investors to efficiently target and secure ideal long-term rental properties, ultimately enhancing their portfolios and cash flow.
Unmatched Customer Support
Our customer support team is your personal assistant, available to assist you wherever you are. Whether you have a question or need help, our dedicated team is ready to provide you with the support you need.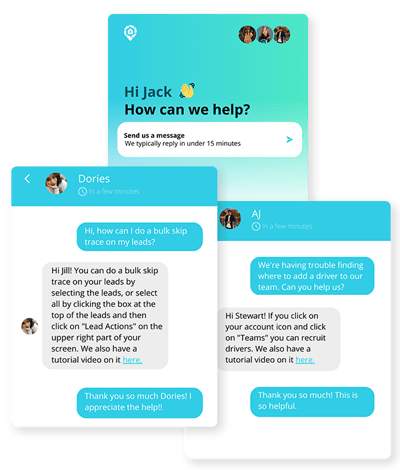 "I was buying stuff off the MLS, and it was kind of crap, to be honest.
I kind of got hooked on DealMachine here as kind of like my main marketing strategy, and sort of never looked back.
By and large, it's been like the biggest factor in our growth."
Invest with confidence using the highest-rated real estate investing app.