Welcome to DealMachine for Real Estate
The app that puts investors in contact with any property owner via direct mail, email, and phone in just 10 seconds.
DealMachine is the leading platform to help investors find off-market deals.

Our software enables investors with Driving For Dollars and List Builder. Both plans include deep property owner data, skip tracing and direct mail marketing.
DealMachine is one seamless app with all of the tools investors need to scale their lead generation.

Our technology works like a machine. We help members set a goal of adding 300 distressed properties to the app within their first month and send repeat mail to every property owner. That's an attainable goal for investors to start seeing measurable results.

We offer native iPhone and Android apps, as well as access on your computer. This system is friendly and easy to use. You do not need to be tech savvy to see big results with DealMachine.

The DealMachine app has been downloaded over 300,000 times and has a 4.8 star rating (out of 5).
We set up our affiliate partners for success
Partner Perks:

We have three tiers in our affiliate program: Silver, Gold and Diamond. Move up tiers by sharing your affiliate link and earning points for sign-ups. And as you move up, you unlock more partner perks (and more opportunities).

Custom Partner Dashboard:

Get access to a custom-built dashboard with advanced affiliate metrics. Your dashboard also displays your partner tier status and will help you set affiliate earnings goals.

Partner Launch Kit:

We supply new partners with a Dropbox full of materials (videos, email copy, landing page copy, etc) to make it easy to quickly boost your affiliate earnings. Start by sharing these materials with your students, your mentees, your podcast audience, your social media following, or your general network.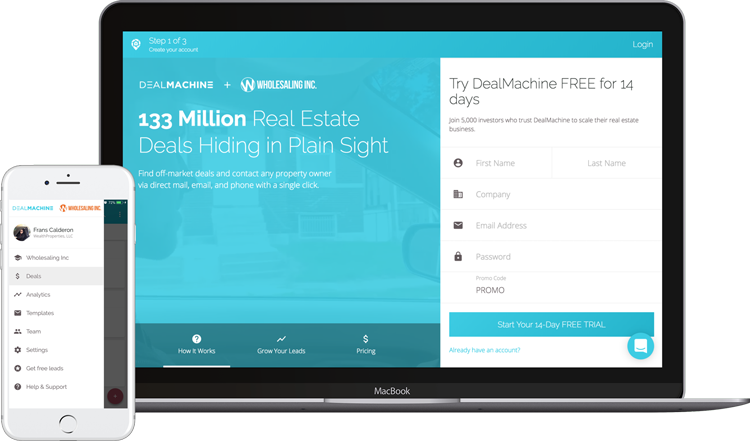 Principles To Be An Ethical Affiliate
As a DealMachine affiliate partner, live by these principles:
Use honest and substantiated claims. Set the right expectations for your referrals.
Share testimonials over "get rich quick" ads.
Send traffic to your content first, then to our site. Do not bid on our trademarked terms, and do not design marketing funnels that replicate ours.

Great affiliate marketing is about trust. You will see so much more success as an affiliate partner if your referrals trust you before they ever see your DealMachine affiliate link.