Welcome to DealMachine for Real Estate
The app that puts investors in contact with any property owner via direct mail, email, and phone in just 10 seconds.
DealMachine let's investors take a picture of any house and immediately shows who owns it, when they bought it, and how much equity they have. Press a button to begin your outbound marketing campaign or find their phone number. Add DealFinders™ into the app to add properties for you. Sit back and get ready for the owners to call you.
Our technology works like a machine. Across the country people are adding run-down properties into the app. We help members set a goal of adding 200 properties to the app within their first month, and repeat mail to every owner over the course of three months. That's an attainable goal for investors to start seeing measureable results.
We offer native iPhone and Android apps, as well as access on your computer. This system is friendly, easy to use, and designed to be SIMPLE SIMPLE SIMPLE. You do not need to be tech savvy to see big results with DealMachine.

In addition, we offer these benefits
Highly personalized mail:
Each mail piece generated by DealMachine features a picture of the property. This will stand out compared to other direct mail pieces, which translates to a higher response rate and closing more deals.
Unlimited owner lookups:
With all of our plans, there's no limit to how many properties an investor can add. With each property added, investors will instantly see: owner name, owner mailing address, last sale date, sale price, mortgage amount, estimated equity, sq footage, year built, school district. Easier than using a county website. More reliable than a virtual assistant.
Enhanced Search Skip Tracing:
Users can dig deeper to find owners, instantly with access to top tier data in the palm of their hand. Enhanced Search returns mobile phones, emails, and a list of other addresses where the owner lives or owns.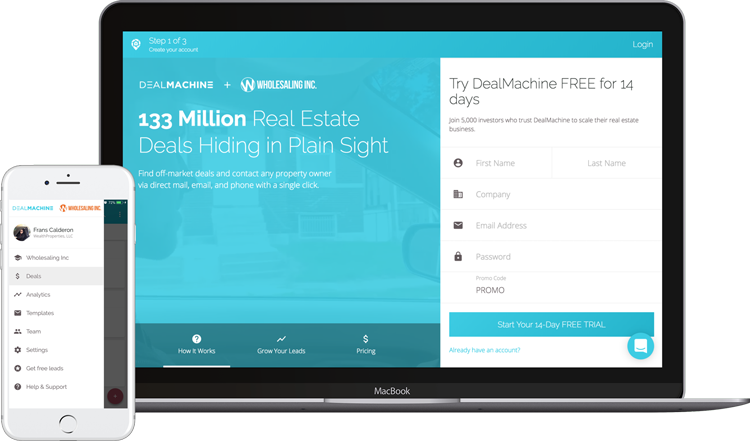 Additional Bonuses for Affiliate Partners
Optional – As a partner you may co-brand your logo inside the DealMachine app, as well as control what the top menu button in the app displays for your users. An excellent way for you to stay top of mind with your audience through an app they'll use daily.