What is the BRRRR method?
The BRRRR method – Buy, Rehab, Rent, Refinance, Repeat – is a proven real estate investment strategy. It involves buying a property below market value, renovating it to add value, then renting it out to generate steady income.
After stabilizing the property, the investor refinances to extract their equity, which can then be used to repeat the process with a new property. This method allows investors to recycle their capital and exponentially grow their real estate portfolio over time.
If you're interested in exploring this investment strategy, we encourage you to use our calculator below. It can help you estimate potential returns and visualize how the BRRRR method could work for a property you're considering investing in.
Select a property:
Search for the property your interested in using DealMachine's database of over 150 million properties in the United States.
Step 1 - Buy:
Step 2 - Repair:
Step 3 - Rent:
Step 4 - Refinance (Optional):
With Refinance
Cash Invested:
Monthly Cashflow:
Without Refinance
Cash Invested:
Monthly Cashflow:
Like this tool? See what else DealMachine can do for you.
Find discounted deals by driving for dollars.
DealMachine is undoubtedly the top app for driving for dollars. This strategy, used by wholesalers nationwide, allows you to uncover leads that are hidden in plain sight.


Send postcards that stand out.
Once you've identified your leads, it's time to contact the property owners. Reach out by sending stunning postcards that leave a lasting impression. DealMachine sends automated follow-ups, preventing potential deals from slipping through the cracks.
"We've been using DealMachine and the postcards to acquire properties that we ultimately flip,
and use the profits to fund the down payment of larger buy-and-hold buildings, and it's been an amazing tool.
I mean, closing on 4 to 5 flips right now, we're averaging 1 to 2 flips a month.
I couldn't recommend it highly enough to any other local investors, or any investors for that matter."
Reach Out with Cold Calls
If postcards aren't for you, give cold calling a try. DealMachine helps you find the property owner's phone number through skip tracing. Call them right away and make the deal happen.
Take control of your wholesaling business.
Whether you're an experienced professional, or just starting out, DealMachine gives you everything you need to run your business. With our easy-to-use interface, you can organize leads, manage lists, and simplify marketing tasks.
"Look, obviously DealMachine has a ton of uses, right?
Driving for dollars, hands down, pound-for-pound, is the absolute best way to find real estate investment leads.
There's no better way than to see the property in the moment, know that it's distressed, and get mailers out, get a door hanger out, get everything out as fast as possible.
It's the most direct method."
Let us help you on your journey.
Our customer support team is your personal assistant, available to assist you wherever you are. Whether you have a question or need help, our dedicated team is ready to provide you with the support you need.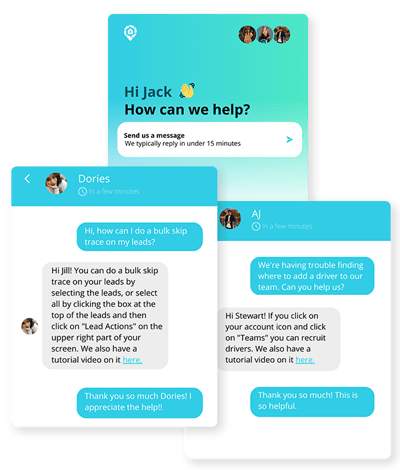 Invest with confidence using the highest-rated real estate investing app.