Your Complete Guide To KPIs & Metrics For Your Business
Time to take your business to the next level.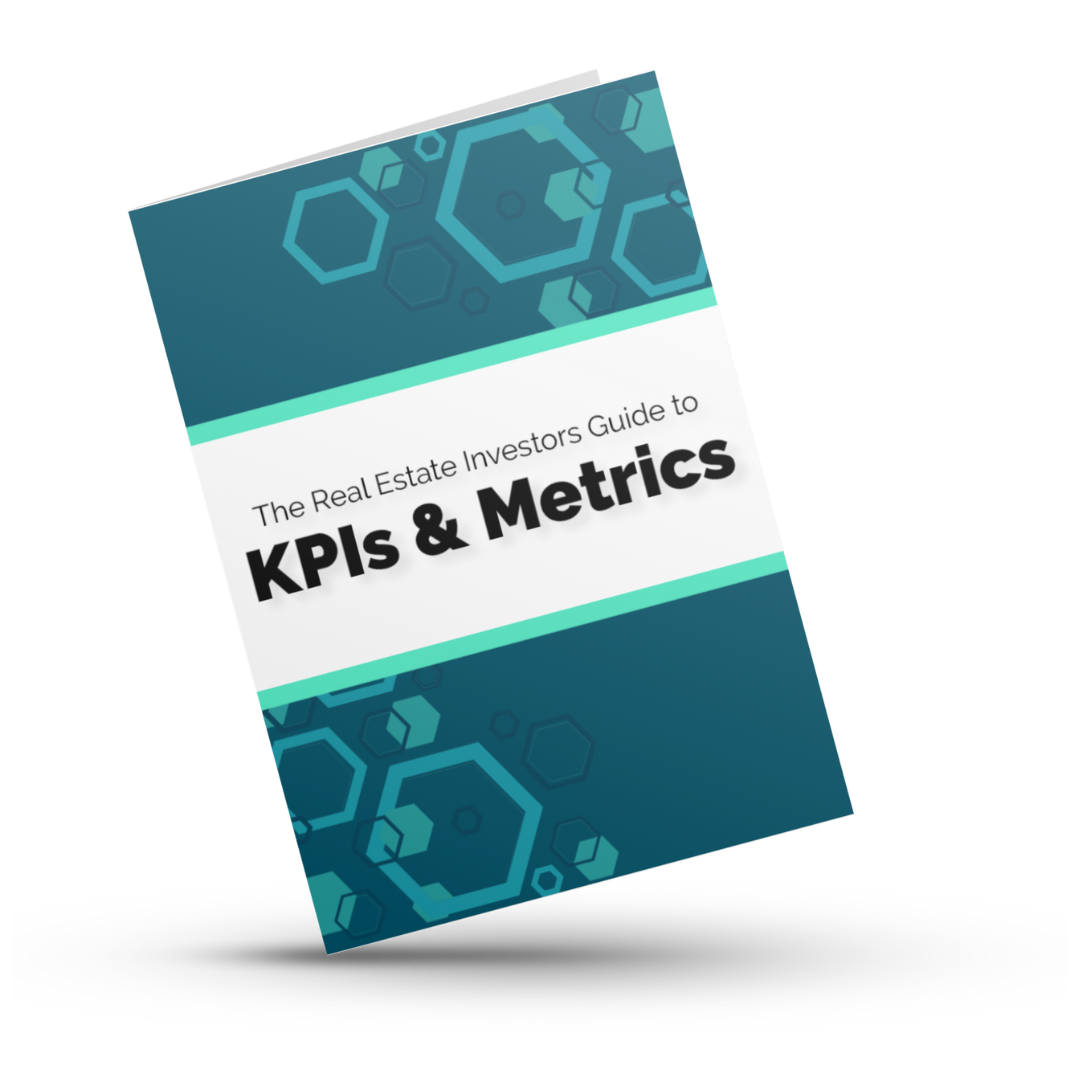 Don't double the learning curve — DealMachine brings simplicity to finding your next deal.
Thinking "I'm going to start real estate investing" or "do more deals this year" is the easy part.
It's the process of finding and getting those deals across the finish line that takes action, focus, and hard work. And most real estate investing tools make it even harder. Whether it's outdated data, a confusing interface, or unsupported 'all-in-one' platforms that promise everything for 'one low lifetime price' - it can feel like you're trying to climb Mount Everest just to get started.

With DealMachine, the next step towards your first deal is built right in. DealMachine gets you focused on the things that matter, while removing the mountains that don't. We help you
build a unique list of niche

leads

, automate

consistent direct mail marketing

, and

close the deal

with integrated comps, notes, tasks, and property promo pages so you never let things fall through cracks.



Most importantly, DealMachine keeps you focused on taking

actions

that lead to deals, with the confidence of access to

on-demand knowledge and guidance

from world-class real estate investing experts when you need it.

Driving for Dollars
DealMachine's Driving for Dollars systems brings you a click away from your next deal.

Tap on any distressed house to see the owner and property details.

Instantly start a custom mail sequence w/ a real picture you took

Build a team of drivers to find distressed homes.

Drive virtually on the web using google maps.

Track your routes so you're not wasting time, or missing good leads.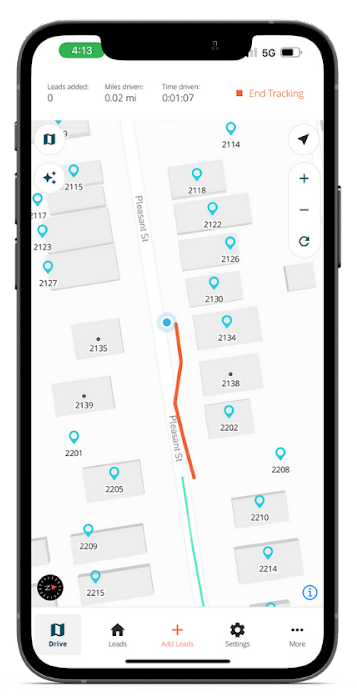 Build Lists
Instantly pull in thousands of leads from anywhere in the US with your own niche criteria

700+ data points across 60+ unique filters

Smart Lists means your list is never out of date.

Instantly sync a new list of leads to your direct mail marketing sequences.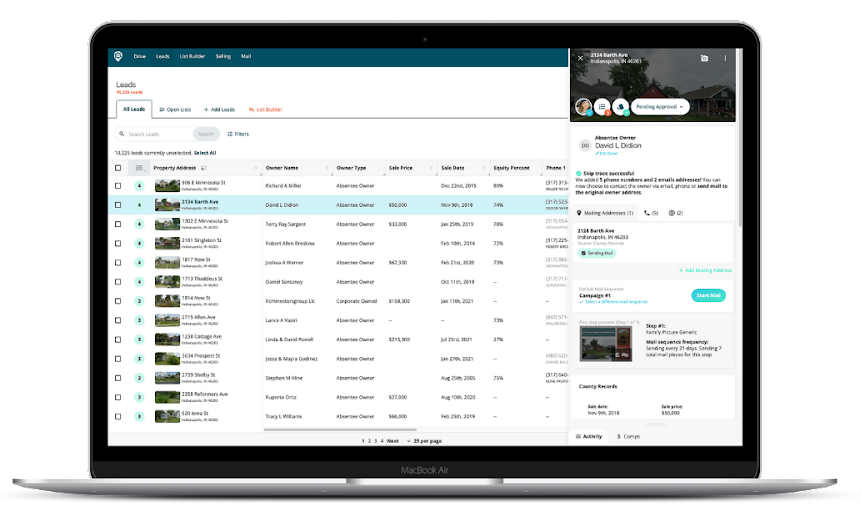 TESTIMONIALS
What the pros say.
"Driving for Dollars is the best list for Real Estate Investors AND DealMachine is the best Driving for Dollars App! 80% of Real Estate Investors find the first few deals Driving for Dollars."
"I went from no experience in wholesaling or finding off-market deals to 175 deals in 2-years with DealMachine's Driving, Lists, and postcards alone. It's simple and just works."
"Everyone had all the lists in my market, so I switched to D4D with DealMachine instead. I made $1 million in fees my first full year. Now I coach students on how to do what I did Driving for Dollars. "
What is Driving for Dollars (D4D)?
Driving for Dollars is the best way to find Real Estate Deals. You drive the areas you want Real Estate deals in, look for signs the property is physically distressed, and reach out to the owners to see if they want to sell the house. We usually see investors make more money from D4D deals than any other lead source.
What D4D plan should I choose?
We offer 3 Driving for Dollars plans. Starter, Professional, and Elite. We like to think of it as Fast. Faster. Fastest. Most members do the Professional plan to get started, but those who want to do 15+ deals a year are usually looking at our Elite option for the increased lead limits, driver seats, and Elite Support Team that gives you 1:1 training, goal setting, and Quarterly Business Reviews for accountability and strategy alignment.
What is DealMachine?
DealMachine is a software designed for Real Estate Investors to acquire off-market deals. We help you Drive for Dollars, build targeted lead lists, market to sellers through automated direct mail sequences, find owner phone numbers, and manage your deal pipeline while you're negotiating deals.
Can I market to properties in DealMachine?
Yes! Every DealMachine plan allows you to send mail instantly to every property you add into the system with a real photo of the property you can take inside the app. You can also skip trace to find phone numbers to get in contact with owners by calling or texting.
Can I change my plan later?
You can always change your plan or add different features. If you ever want to go Faster on our Pro and Elite plans, you can make that move instantly, you can do that. If you want to downgrade to a lower tier plan, you'll be able to do that and finish the current term you've already paid for on the upgraded level and then be changed to your new plan.
How much does it cost to D4D with DealMachine?
DealMachine 's D4D plans start out at $49/month* for our Starter options. Our Professional level is $99/month*, and our Elite is $249/month*. Elite Members also have a dedicated 1:1 RE Growth Experts, Onboarding & Training Specialists, and a long-term Success Manager that makes sure they achieve their goals with DealMachine. There is a a ONE-TIME $1,000 Elite Team Fee the first time you become an Elite Member.
*Prices list include the 17% annual pre-pay annual discount.
What ROI can I expect?
ROI can vary based on your experience, market, and ability. We're here to help you improve your marketing processes and skills to maximize and improve your ROI over time. On average, investors target a 3x ROI, and the best can exceed 5x ROI.
Am I guaranteed to get deals?
Nothing in life is guaranteed. DealMachine has helped more than 15,000 members get Real Estate Deals. We give you the training, tools, marketing tools, and contact data to make deals happen. Your REI experience level, activity, and commitment to using DealMachine will determine your success, and we're here to help every step of the way.
What about my data?
Glad you asked. Your data is yours! Our Terms of Service are very clear. We can only use the data you input into DealMachine to help you use DealMachine and be successful. We don't sell or use your personal or business data in any way other than to allow you to use DealMachine as designed to help you streamline your process of acquiring off-market real estate deals.
Can I export my data?
Yes, your data is yours! You can export up to 5,000 property records every day with all the ownership information, phone numbers, and other data you put into DealMachine.
Can I connect to my CRM?
We make connecting to most CRMs very easy in two ways. We have a Zapier integration that let's you connect DealMachine to most large CRMs and automate data flow from DealMachine to wherever you want it to go. The other common way is a simple routine .CSV export with new data and uploading it elsewhere.
Where do you get data from and is it accurate?
We pull in hundreds of pieces of data on all the properties in the US to give you the best chance of landing the deals you're looking for. We update our weekly to give you as accurate a reflection of ownership information as we can. Some counties are faster at updating their records online than others, but we stay on top of it to get you the best information available.
What about your customer support?
Glad you asked. We have top notch very responsive support. Our average response time is under 2-minutes. All members have access to our chat support and that is live from 9 am EST to 11 PM EST on week days, and 9am to 9 pm EST on the weekends. Elite members can also schedule 1:1 calls with their Elite team, and also have a priority support queue with our Elite support team.
How can I trust you?
Don't take our word for it. We try to let our members and customers success speak for itself. Our Apps have thousands of real reviews (over 3,500 in total) and we have a 4.9 rating on the Google Play Store and a 4.8 rating on the iOS App Store. Take a look at our YouTube Channel to see our member success stories and reviews as well.
I have a limited marketing budget, should I use DealMachine?
Everyone starts somewhere, and we happily work with total newbies all the way up to the vets doing hundreds of deals. Driving for Dollars is the best way to do Real Estate Investing on a budget. We consistently see it takes the lowest amount of leads and marketing dollars to get deals from driving for dollars, which makes it the perfect place to start Real Estate Investing with a low marketing budget.
How often to you update the app and data?
We update the app like clockwork every two weeks. Improving simplicity while delivering the additional features you need to get Real Estate Deals is our priority. We do everything based on your feedback and what you'd like to see in DealMachine.
Why not just pull lists?
You could do that instead. DealMachine actually offers a List Builder product you can add on as well! Your Driving for Dollars list of leads is the Real Estate list no one else has, and that means you're focusing on your own deals instead of the same properties every investor is already marketing too.
Why not just Drive for Dollars the old fashion way?
Pen and paper. County websites. Skip tracing phone numbers down. Writing Letters. It can still work without DealMachine. We find you're able to do what normally takes 30 minutes of manual research and effort in seconds with DealMachine. We also see people forget to follow through on each step along the way. DealMachine does the tedious work for you, and makes sure you stay consistent with your marketing to get you the results you want.
How much marketing should I send out?
Marketing is all about consistency. The average transaction in REI will happen in the 7-12 touchpoint range. Some deals will come earlier, and some later. The most important thing is consistently driving, adding new leads, and repeating your marketing every 21-30 days. DealMachine helps does all of that for you while you focus on driving and closing the deals.