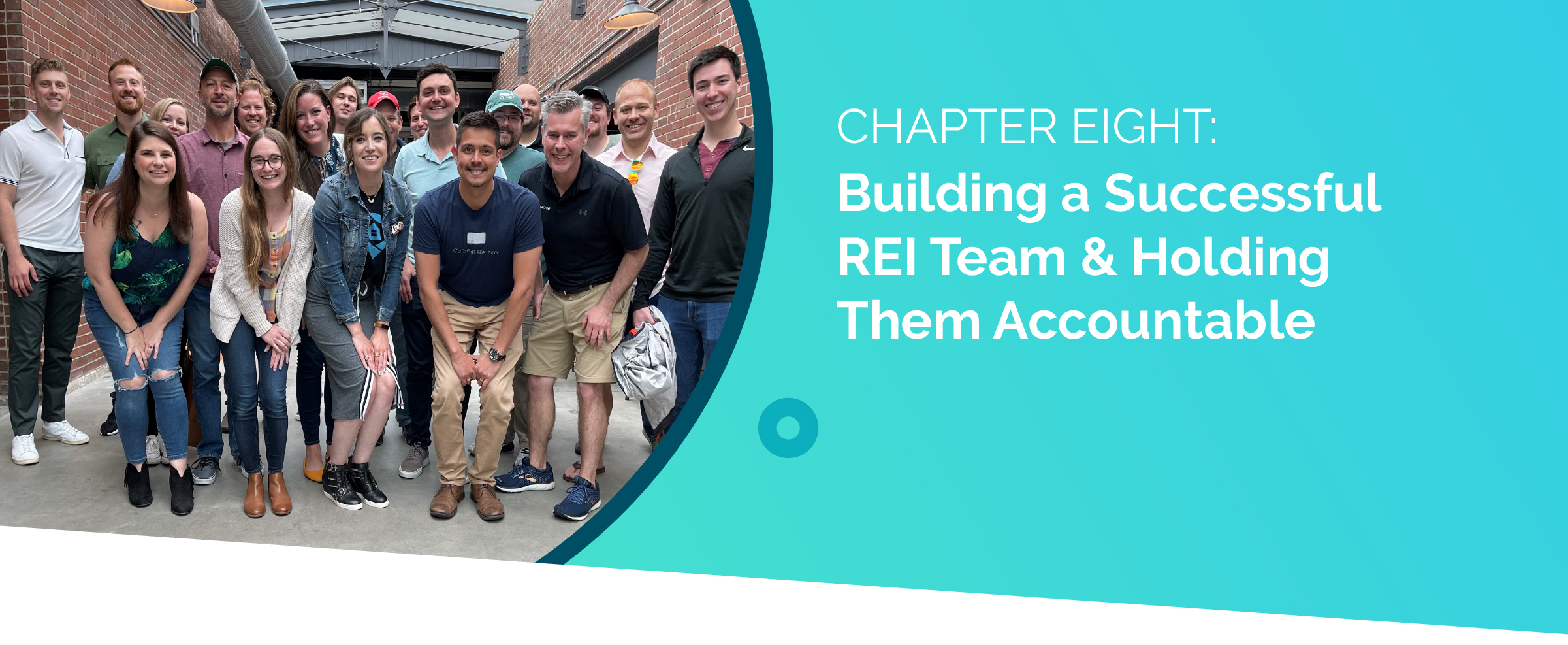 Getting Started
Deals: Start To Finish
KPIs & Measuring Success
Accountability, Management, & Team Building
Efficiency & Tools
Building a Successful REI Team & Keeping Them Accountable
June 20, 2021 6 minute read
Are you wondering where to start to build a successful real estate investing team? Maybe you've closed a deal, or even a few deals, and realized with only so many hours in a day you will be limited by how much one person can do alone. It may be time to hire people for your real estate team. Before you start interviewing, be sure that you have enough work for these team members. You only want to start building a real estate team once you really have the demand for it and can comfortably pay these new team members.
What Team Members Should You Hire for a Successful Team?
So, how does real estate teamwork? To understand how to build a real estate team, start by breaking up the deal pipeline into logical separate steps. Hiring for each of these positions is the first step when creating a real estate team. As your company grows, the real estate team roles you need to hire for will probably expand, but to start your team, here are the main positions you should look to fill.
Drivers
To scale your real estate investing business in a way that will generate higher profits, you need to know how to recruit drivers or Drivers. Finding properties yourself by driving for dollars achieves a much higher ROI than buying property lists, but you can't scale your business by spending all your time driving. Instead, hire Drivers that can hit the pavement to find properties that meet your criteria so you can better target your marketing.
Consider hiring Drivers after you close your first deal and start with the people who support you and always have your back. Family members and close friends can be a great fit for your first Drivers. Be sure they understand what you are looking for in a property so they add the right properties.
These motivated leads move through the deal pipeline to the lead manager who will take it from there.
Lead Manager
As you scale and your list of leads grow exponentially, you'll want to hire a lead manager. Your lead manager will work in the office taking calls and making outbound calls to qualify leads. This position requires someone with good interpersonal skills who can perform the discovery steps of the lead qualifying process.
Some of the responsibilities of a lead manager include establishing a rapport with potential sellers and obtaining key information for the team that includes:
The personality of the lead to ensure the deal is approached from the right angle
Type of distress the lead may be in
How quickly the lead wants to sell
How much money the lead expects to get for the property
Pertinent property information
Once the lead manager has qualified the lead, they will schedule an appointment for the acquisitions manager to meet the leader. The lead manager then hands off all the information to the acquisitions manager for the next steps.
Acquisitions Manager
The acquisitions manager plays a key role, and this real estate team member's main job is to close deals and acquire properties. Once the lead manager discloses all the preliminary information about the lead and the property to the acquisitions manager, the acquisitions manager will analyze the property and determine how much to offer for the property.
By using the specific information they received from the lead manager, the acquisitions manager goes to the scheduled appointment and works the deal. This team member should have excellent negotiation skills and a strong understanding of the local real estate market. They also need to be personable and able to work with many different personality types.
Once you've acquired property, it moves through your deal pipeline to the dispositions manager.
Dispositions Manager
Whether you wholesale or flip, hiring a successful dispositions manager is crucial to your business. The dispositions manager handles the selling of properties and builds a list of qualified buyers.
Find someone good at networking and negotiating so your buyer list grows and deals are advantageous for your business. Having a list of pre-qualified buyers enables you to wholesale or flip properties faster, which means income lands in the bank sooner. Ideally, you'll have a buyer in mind for a property right when you acquire it.
Marketing Lead
You can't expect to be an expert in everything and if you're running a real estate investment company, although you know the ins and outs of every task, you just don't have enough time in the day to focus all your energy on marketing. But marketing is integral to the business, and as you're building a real estate team, hiring a marketing lead can give your business the marketing attention it needs and deserves.
Your marketing lead will direct your marketing initiatives and should be well versed in the real estate investment landscape. Some of the main responsibilities include:
Designing and directing all marketing initiatives, including direct mail and email marketing
CRM management to direct team's efforts at the right target audience
Search engine optimization (SEO) to improve online performance
Attending conferences and networking events
Understanding how to build a real estate team is key to running a successful real estate investing company. Choose candidates for each of these roles that have the skill sets needed to scale your business.
Tips for Accountability: How to Effectively Manage Your Real Estate Team
Tip #1: Conduct Regular Training
To keep your team running like clockwork, and aware of current market trends, regular training is vital to your company's success. According to SHIFT, training and developing your employees can "increase employee productivity by over 200%." Whether you're training team members on how to find motivated sellers, distressed properties, or closing techniques, continual training improves results and develops your team's talent.
Tip #2: Set Clear Goals and Expectations
By setting goals, you give your real estate team a clear understanding of what they're working toward. Let them know exactly what your expectations are of them so you can hold them accountable and ensure they perform at the level your business demands of them. Compare their achievements with set goals to evaluate their performance and determine if they are fulfilling the expectations of their role. Utilize deal analytics to get a firm grasp on the results each team member is delivering.
Tip #3: Hold Weekly Meetings
Meetings are important for several reasons. They can provide real estate team building, and they are also a great way to share important information with your team. Other benefits of holding weekly meetings include motivating your team members and discussing the week's priorities. Consider these weekly meetings an investment in your real estate team's performance and be sure to set an agenda and make these meetings meaningful.
Tip #4: Use Technology to Establish Effective and Efficient Systems
The path to closing a deal involves multiple steps, and as you grow your real estate team, it also involves mdealfinderultiple team members. Setting efficient systems into place ensures your team works effectively and it also maximizes productivity. One of the best ways to establish systems is by using technology that works for you so you can work smarter. A recent study concludes that property technology, or PropTech, has a "significant potential to act as a complement to the industry in improving its productivity and efficiency."
A lead management system allows your entire team to keep track of leads and follow them through your deal pipeline. A driving for dollars app ensures your Drivers never drive the same street twice, and they target specific areas. Use the same app to text, email, or send direct mail to a motivated lead all within 10 seconds. The right technology can streamline your processes and improve efficiencies to free up more of your time.
How to Structure Payment for Your Real Estate Team
Depending on the real estate team role, you may choose to pay your team members a few different ways. Some positions like the lead manager, acquisitions manager, and dispositions manager might be commission-based or have a base salary with added commissions from deals they work on that close. Determine what makes sense for your business. You want your real estate team members to be motivated, but you also need to make sure your business can support their pay structure.
For Drivers, you also have multiple options for a payment structure, which include:
Paying drivers per closed deal
Paying drivers per qualified lead
Paying drivers hourly
All three payment structures have pros and cons. Determine the payment structure for Drivers that works best for your business and include it in your driver contract when you hire them.
Successfully Build and Grow Your Real Estate Investing Team With DealMachine
To scale your real estate investment company, you need tools that help you successfully build, grow, and manage your real estate, investment team. DealMachine is a powerful technology stack that helps you manage every step of the deal-making process from a real estate CRM to real estate skip tracing. Hold team members accountable by evaluating performance with in-app analytics and clear key performance indicators. Want to maximize your profits with less effort? Sign up for a free trial today and find out why so many real estate investors choose DealMachine.