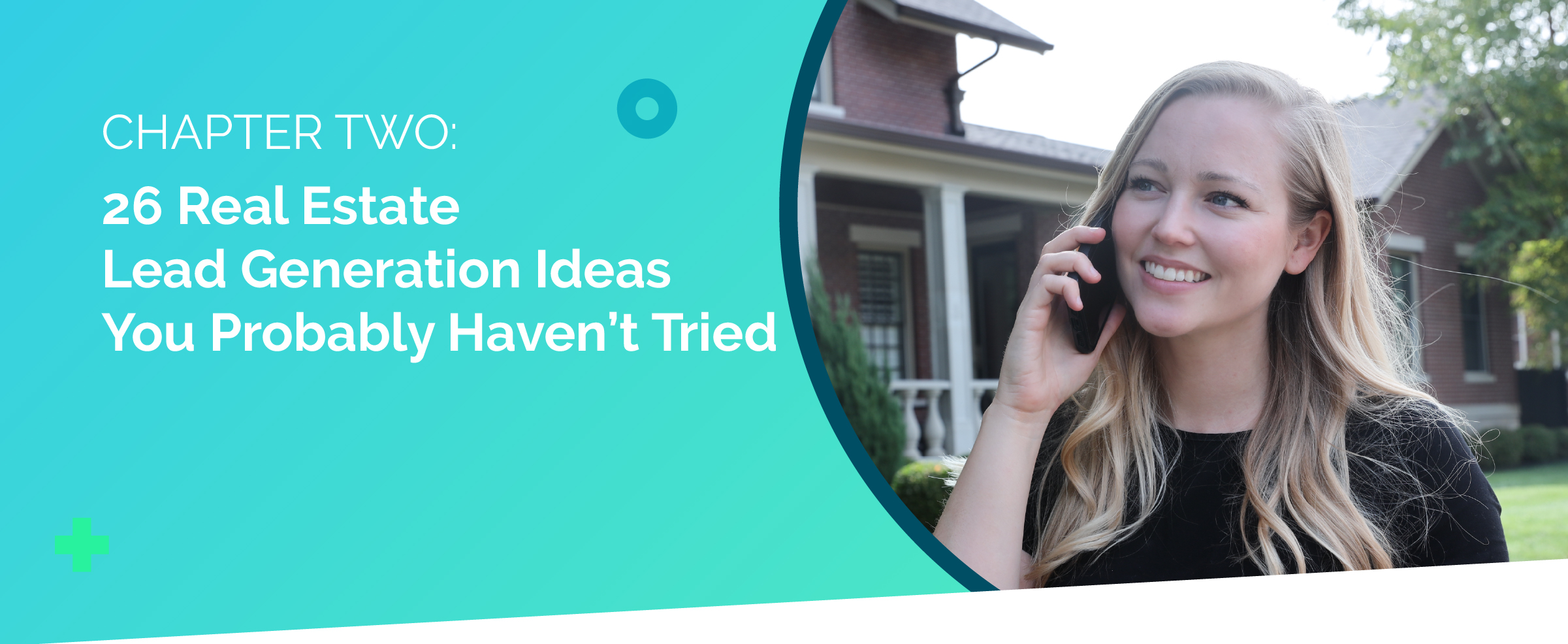 Getting Started
Deals: Start To Finish
KPIs & Measuring Success
Accountability, Management, & Team Building
Efficiency & Tools
26 Real Estate Lead Generation Ideas That You Probably Haven't Tried
June 20, 2021 6 minute read
Investing in real estate offers tremendous financial potential, and as your real estate investment company grows, you understand how dependent growth is on quality leads. To achieve the sales numbers your team is capable of, you are constantly looking for real estate lead generation ideas that result in long-term success. Here, we'll share 26 lead generation ideas for real estate that give you and your team effective new ways of generating leads.
Free Real Estate Lead Generation Ideas
Lead generation does not have to be expensive. In fact, some of the most effective strategies for building a real estate list are free.
You can generate new, valuable leads for free simply by reaching out to current and past buyers and sellers and networking with other real estate investors. Here are five strategies that go over the details.
1. Share Seller Testimonials
No one can persuade a potential seller to do business with you like past sellers that rave about their experience working with your company. Testimonials provide priceless advertising and are proven to generate leads.
2. Request Referrals
Be direct with your sellers and simply ask them to refer you to people they know who may also appreciate your services. Word of mouth is one of the best ways to market your business, and it costs absolutely nothing.
3. Cold Call Expired Listings
Expired listings are oftentimes homeowners who are frustrated and ready to sell. Calling expired listings can be a great way to get in touch with sellers of distressed properties. These real estate lead sources are typically highly motivated.
4. Reach Out to for Sale by Owner Listings
For sale by owner listings mean you can work directly with the homeowner and avoid the added costs of a realtor. These listings offer substantial potential for your business.
5. Attend Free REIA Meetings
Many Real Estate Investor Association (REIA) meetings are free to attend and offer an excellent venue to discover additional ways to generate leads.
Online Real Estate Lead Generation Ideas
These days, having an online presence is considered mandatory.
Having a digital marketing strategy is crucial to generating and nurturing real estate investment leads. Below are a few tactics to consider.
6. Build a Website
These days, having an online presence is considered mandatory. Build your own website to market your brand and provide online searchers with the information they need to contact you. Use your website to attract real estate lead sources and foster their development through your sales pipeline.
7. Write a Blog
Content marketing is a proven tactic to generate leads and attain the results you want. While it may not seem intuitive, blogs can be great lead magnets. On average, companies with blogs generate 67% more leads than companies that lack them. Create a blog that provides useful information for your audience and satisfies their search queries.
8. Schedule an email campaign
Email campaigns are a results-oriented marketing strategy that produces high-quality leads. Communicate with your potential sellers to generate and capture their interest. DealMachine skip tracing often gives you the email address of the property owner so you can start your campaigns right away.
9. Offer an Online Course
Demonstrate your real estate knowledge to buyers or sellers by creating an online course that offers helpful information to your potential buyers or sellers. Online courses also provide a perfect opportunity for attendees to share your course with people they know who may stand to benefit as well.
10. Record a Weekly Podcast
Podcasts are relatively new to the industry and an impactful way to differentiate yourself and generate real estate leads.
11. Purchase Online Ads
Target your local homeowner market by purchasing online ads that market to your area. This type of focused advertising allows you to reach the right audience.
You can buy online ad space in a variety of places, including:
Online publications
Social media
Search engine results
Mailing Real Estate Lead Generation Ideas
"Snail mail" may feel outdated to some, but it's still a very effective way to generate leads, especially in the world of real estate.
Check out our strategies below to maximize your direct mail marketing efforts.
12. Send Direct Mail Campaigns
Direct mail is one of the most effective and proven marketing techniques for real estate. Depending on the list, you'll typically see a .8-1.2% response rate. Multiple that over 1,000 postcards sent, and you have generated 8-12 potential new leads ready to sell.
By sending recurrent printed mail that's engaging to motivated sellers, your real estate direct mail campaign will deliver results.
13. Share Your Business Card
A business card remains one of the best ways to generate leads. Always keep business cards on you and share them as often as possible to maximize your chances of successfully landing a lead. Leave business cards in community spaces like coffee shops, bookstores, waiting rooms, and at compatible businesses. Successful lead generation for real estate investors begins with sharing your contact information.
14. Send Postcards to Expired Listings
While a listing may have expired, it doesn't necessarily mean the homeowner is no longer interested in selling the property. Make them aware that you are ready to work with them by sending postcards to expired listings.
15. Leave Door Hangers
The added touch of a door hanger shows homeowners you are willing to go the extra mile. By placing door hangers on homes, you may generate more leads than you expect.
16. Send Handwritten Thank You Notes
Thoughtful, handwritten thank you notes to ensure you stay top of mind with your sellers and buyers. Write thank-you notes to your buyers, sellers, and anyone who has taken the time to refer you.
Social Media Strategies for Real Estate Lead Generation
Social media is a relatively new digital marketing channel but is also one of the most effective.
Social media allows businesses to showcase unique aspects of their brand, connect with their audience, and of course, generate leads. Here are a few ways you can use social for your real estate investing business.
17. Live Video Feeds on Property Site
Drum up excitement about your property by filming a live video feed on social media. Live video feeds offer you an expanded audience and allow people to preview a property in a convenient and entertaining way.
According to a survey by Vimeo, a whopping 82% of social media users said they prefer live video to standard posts.
Enhance the experience by offering a live Q & A session and allowing participants to engage in live chat options. Encourage attendees to visit your website, email you, or leave their email addresses so you can reach out to them afterward.
18. Share Your Seller Wins on Social
Feature your satisfied sellers on your social media pages and share their successes. Human interest stories engage your leads' emotions, and your future sellers will be happy to hear why people like working with you.
19. Host a Giveaway for Branded Gear
Branded gear like hats and shirts is a great way to market your brand at an affordable price. Create a buzz and encourage engagement with your followers by hosting a giveaway on social media.
Don't forget to ask users to refer (or tag) their friends; 83% of businesses use giveaways as a way to generate leads through referrals.
20. Offer Your Expertise in Facebook Groups
People in Facebook groups are often looking for answers to their questions, and by joining the conversation, you can demonstrate that you're an expert in the field of real estate and authority they can trust. This can be an excellent way to develop lead generation for real estate investors.
21. Advertise on Social Platforms
You may be hesitant to spend money advertising on social platforms, but a tremendous amount of people spend time on social media, and your ad investment will be money well spent. In 2020, over 3.6 billion people used social media worldwide.
Clever Real Estate Lead Generation Ideas
Ready to think a little more out-of-the-box? Take these lead gen strategies for a spin.
22. Make Branded Products
Spread brand awareness by creating products like pens, t-shirts, hats, and sweatshirts with your brand logo on them. Wear your branded merchandise while you're out and about and advertise everywhere you go.
23. Attend Non-Real Estate Networking Events
Networking is a proven way to build relationships and nurture your lead generation. Attend both real estate industry events as well as non-real estate events to meet new people and create new relationships. Even if a person you talk to at one event is not directly looking to engage with your services, it may only be a matter of time before they or someone they know is.
24. Obtain Local Press
Consider pitching your story to a local newspaper, magazine, or television station. You'll want to have a compelling story that news outlets will want to share. Perhaps your company is partnering with a local charity, offering a unique service, or hosting an event. When local press covers your story, leads are bound to follow.
25. Drive for Dollars
Driving for dollars is one of the easiest ways to find profitable leads. By driving through neighborhoods and finding distressed properties, you generate a unique list of promising off-market leads. Scale your business by hiring a street team of drivers that can grow your real estate lead sources even further.
26. Use Real Estate Investor Lead Generation software
Real estate lead generation software is a surefire way to generate motivated leads with very little legwork. Access real estate leads that include owners of properties in preforeclosure, foreclosure, bank-owned, vacant, absentee-owned, and more. Focus on leads that meet your real estate investing lead criteria.
Convert More Leads with DealMachine
DealMachine's real estate lead management software organizes and manages your leads for you. Our powerful software stack simplifies lead generation for real estate and allows you to organize your properties, get deeper insights on every deal, and monitor ROI with ease. Automatic updates ensure your list of leads is always current, and you can easily manage up to 50,000 properties and 30 team members at no cost. Start closing more deals with DealMachine by signing up for a free trial today!