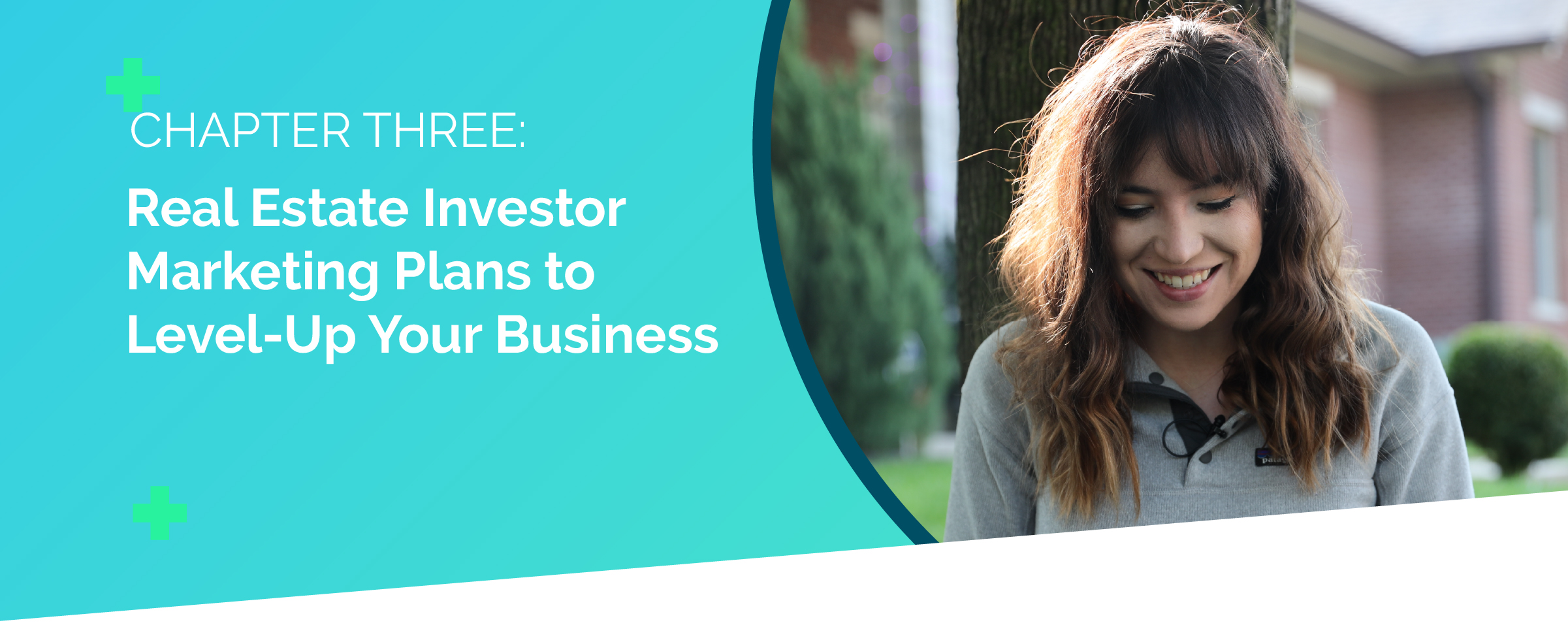 Getting Started
Deals: Start To Finish
KPIs & Measuring Success
Accountability, Management, & Team Building
Efficiency & Tools
Real Estate Investor Marketing Plans to Level-Up Your Business
June 20, 2021 6 minute read
Are you unsure about whether you need a real estate investor marketing plan? Well, if you want to experience success in this industry, a real estate marketing plan is a must. To win over your competition, you need to have a strong marketing plan that puts you in front of the right people at the right time, when they need help. In this chapter of our guide, you'll learn what a real estate marketing plan is, how to write an effective real estate marketing plan, and find out real estate marketing strategies that work.
What Is a Real Estate Marketing Plan?
A real estate investor marketing plan is a written document that outlines the key elements that will guide you toward success. Your real estate marketing plan should include detailed business goals, how you plan to market and advertise your business, your target audience, and your budget.
How to Write a Better Real Estate Marketing Plan
Although each real estate investor's marketing plan will vary, there are certain components that all plans must include. Each of these components allows you to create and follow a plan that leads to achieving the goals you set. Let's go over the steps you need to take to craft your real estate marketing plan.
1. Clearly Define Your Target Audience
To write an effective real estate investor marketing plan, you need to know exactly who your business is targeting. Are you looking to target homeowners who are headed toward foreclosure, homeowners of properties that are vacant and unmaintained, or homeowners who have put their home on the market as a For Sale By Owner? Clearly describe the audience your business aims to cater to and include specific details about their homes. Understanding who you are marketing to will enable you to tailor your message to ensure it appeals to the right people.
Include specifics about your target home characteristics such as:
Homes built in the '60s - '70s
Homes that are 1,000 - 2,000 square feet
Homes where the owner has 50% equity
Homes that are worth at least $150,000 if they were in perfect condition
2. Continually Set and Adjust Your Goals
It is important to set your goals early on in your marketing plan so you have a roadmap of where you plan to go. To set these goals, you must understand how much marketing it will take to get a deal. Often times, real estate investors will try out too many marketing initiatives at once and waste all their money because they're spread too thin. If it takes 3,000 postcards to get a deal in a specific market, but a new investor chooses to divide their entire budget up by doing 500 postcards, 500 texts, and 20 cold calls, they're not going to get any results and they're going to quit.
For example, if you're in the Midwest market, we see that it takes adding 400 distressed looking properties, and sending a postcard 3 times over 3 months to get a deal. So, if you have 3 team members, and you want 1 extra deal per month, you could have them add 33 properties per week. After a 3 month ramp-up period, you should be averaging 1 deal per month from those efforts.
If you're in a market on the east or west coast, you should expect to need to add 900+ distressed homes to get a deal driving for dollars. These are helpful estimates you should seek to understand before jumping in to a marketing plan. You can get estimates for different strategies by going to a real estate meetup and asking people, "How many text messages do you usually have to send to get a deal in this market?"
Be sure to choose goals that are attainable and that motivate you and encourage your team to move forward. As you achieve goals, you can then adjust as necessary.
3. Fine-Tune Your Messaging
The message of your marketing plan includes taglines, your company's value proposition, and strong selling points. An example tagline that most investors start off using is, "We will buy your house in any condition." The main selling points that make this tagline appealing are:
No realtor fees
Get cash for your home in less than 14 days
No money is needed to fix your house
Guaranteed sale
Less stressful process
Once you've created your message thoughtfully you can recognize the power it has to drive your business and separate you from the competition. Campaign messaging is another important component of your brand message. Conduct A/B testing to find the right wording, time, and method of communication for your leads. Slight changes can result in dramatic improvements. Fine-tune when you send text messages, how often you mail postcards, and what wording drives the best response rates.
4. Conduct Quarterly Competitor Analysis
Your marketing plan should include a section that demonstrates what competitors in your area are doing. Take this time to regularly determine what works for other real estate investors and what efforts are falling flat. Plan to conduct competitor analysis quarterly or as frequently as you find it helpful.
By reviewing marketing moves by your competitors, you can learn from their successes and mistakes. When you notice a marketing technique that does not attain desirable results, you can avoid making the same mistake.
5. Determine and Own Your Niche in the Market
To strengthen your marketing plan, evaluate your local market and truly determine what makes you stand out from your competition. Is there something that your company can deliver that other companies cannot? Once you know what makes your company unique, become the authority on your niche by using strategies that tap into your company's strengths.
Does your team excel at making YouTube videos? Dominate that marketing channel. Are your leads extremely active on Facebook? Use that to your advantage and grow your presence there. Are you especially savvy at in-person communication? Attend as many real estate investment conferences as possible. Whatever your niche is, find ways to dominate the market and share your abilities with prospective sellers and buyers.
I once was bidding on a property against someone else. We offered the same price and terms, but the wife of the seller picked me because she found a YouTube video of me online and she liked what I had to say. You never know when something like that will influence a deal. Another example would be if you also have your realtor license. You could offer them a quick cash offer as well as the option to list their home. That might not be something your competition can offer.
6. Set and Adhere to Your Budget
Setting your budget is one of the most important elements of your real estate investor marketing plan. To determine what to offer when you purchase a home, you need to understand how much the house is worth in perfect condition by running comps, then see what it will take to get that house in perfect condition by estimating rehab costs, and then you should negotiate the initial purchase price based on those factors.
Over time, you will probably start to notice some percentages. For a home that is worth $150,000 in perfect condition, you would spend $5,000 on marketing. That's 4% on marketing. The flipper will need to make 20% typically ($30,000). They might make $10,000 assignment fee which is 7%. And if everything is being replaced, that rehab probably costs $65,000 which is 43%. That means the max offer you could make on that house would be 27% ($40k). Once you have these percentages roughly figured out, you can very quickly know how much to offer, how much you'll profit, and how much to spend on marketing without spending a lot of time.
Set your budget for driving for dollars, direct mail, SMS messaging, advertisements, and all other marketing activities. Evaluate each marketing method and include figures for how much money you expect to receive in sales for each dollar spent on marketing.
7. Use Cutting-Edge Marketing Techniques and Tools
This part of your real estate investor marketing plan should include the specific marketing techniques and company marketing initiatives you will train team members on regularly.
Explain the various ways team members will approach leads and include scripts and best practices where appropriate. Some marketing methods to include are:
Direct mail marketing
Text message marketing
Cold calling best practices
Social media content
Email marketing
Networking
You'll want to make sure that you set your team up for success with the best real estate investing software for efficiency and streamlined business operations. For those reasons alone, seamless integrations of your REI tools and customizable workflows are important features to look for when considering your tools.
8. Schedule and Refine Your Marketing Timeline
A key part of your marketing strategy is establishing a timeline for your marketing plan. You must realistically set the timeframe for how long it will take for you and your team to reach the goals of your marketing plan. Include specific milestones that will not only keep you on track but will also provide you and your team members with a sense of accomplishment when each milestone is reached. A timeline is imperative and will ensure your business progresses. It also helps you hold team members accountable in instances when achievements fall short of your intended goals.
9. Use Data and Results to Inform Future Marketing Decisions
Remember to include tracking when you create your marketing plan. By tracking your marketing efforts, you can look at firm numbers that illustrate how well your efforts are working. Understanding the results of your marketing plan also helps you determine what could work better and you're able to focus your efforts on the right places and stop putting effort toward something that is not delivering results.
You may find that certain audience age groups or income levels respond better to text messaging than direct mail. Shift your activities accordingly. Analytics on when your team gets better responses to SMS can help you focus your energies and communications toward the most results-driven times. Pay attention to trends and use that valuable information to your advantage.
10. Evaluate and Adjust as Necessary
Consider your real estate investor marketing plan a document that continually evolves. As you learn from the different marketing strategies you employ, you'll want to revise your plan. It only makes sense to continue to include marketing actions that produce desirable results and remove actions that did not work well. In this way, you will constantly improve your plan and your results.
5 Real Estate Investing Strategies that Work
Now that you know how to write a marketing plan, let's go over real estate investor marketing ideas that work.
1. Ensure You Have a Professional, Well-Designed Website
Multiple studies have shown websites have about 50 milliseconds, or 0.05 seconds, to make an impression on a site visitor. This first impression determines whether the visitor decides to stay on your website or leave it. With so little time to impact this decision, you must be sure your website is well designed and looks professional.
Designing and building a successful website does not need to cost a fortune. Many template-based web design applications make it easy and affordable to create an attractive and impressive website. When you're designing a new website, or auditing a current website, be sure it includes the following:
Company name and contact information on each page
Design that is as easy to access on a mobile device as it is on a desktop
An about us page that details who you are and what your business is all about
A form that captures leads so you can follow up with website visitors
Investing time into your website will be well worth it in the long run. If someone gets your postcard, they will probably try to search for your business online before calling you. By having a website you are increasing the chances of getting a call back from your traditional marketing methods.
2. Attend at Least 1 Networking Event per Month
While you're probably very familiar with properties that are listed on the MLS, properties that are considered off-market, or not listed on the MLS, are the ones that interest you and your team. Off-market properties offer real estate investors the ability to earn a higher profit because these property owners need speed and convenience. They, in return, are willing to let go of their houses for a lower price in order to get that speed and convenience to unload their homes.
Since they are unlisted, you may be looking for more ways to find them, and the answer is by networking. To find out about great deals, you need to tell everyone in your circle that you're looking for homes to buy. I'm talking about your church, your volleyball league, your grandparents, etc. This is your special bubble and that is your advantage. If for some reason any of them need to sell their home quickly, they will call you simply because they know you and that is your unique advantage.
Another way to find cash buyers for your wholesale deals is to attend auctions where bank-owned properties and properties in foreclosure are up for bid. Network with as many people there as you can to set yourself up to meet willing and ready cash buyers for your wholesale deals.
3. Send Better Direct Mail
Real estate investor direct mail marketing is an excellent marketing strategy. 70% of consumers prefer direct mail for unsolicited marketing, and 80-90% of direct mail gets opened. Real estate direct mail is proven to generate greater results than other marketing methods and you can choose from letters, fliers, brochures, postcards, or any physical form of marketing you can mail to property owners.
To generate the best results from your direct mail, you must employ the right tactics. Handwritten letters have been found to generate a significantly better response rate than typed letters. Some studies have found handwritten notes are opened at a 99% rate. They make direct mail more personal and allow your business to stand out from the competition.
4. Utilize Text Messaging
Short message service (SMS) offers an impressive 98% open rate and a 45% response rate which makes text messages a strong marketing strategy. Real estate text message marketing delivers timely information and allows leads to reply at their convenience. 85% of consumers prefer SMS over voicemail or email. Communicate with your potential sellers and buyers the way they prefer to hear from you and experience high response rates by marketing with text messages.
5. Follow Up Consistently with the Right Tools
Consistent follow-up is mandatory if you want to close deals with your leads. Studies show 80% of sales require five follow-up calls. No matter how creative your real estate investor marketing ideas are, following up promptly will be the difference between never hearing back and getting the deal.
Direct mail should be sent an average of every 21 days and repeated at least three times. Try texting a lead every month at a minimum until you receive a response. Using a real estate lead management tool helps ensure you never miss a deal and even automates your follow-ups so you can free up time for other things and ensure you and your team follow up in a routine, timely manner.
Many lead management tools also allow you to make notes on any communications with leads to ensure you always remember conversations and properties and can tag members of your team to let them know who is expecting a follow-up call.
Level-Up Your Real Estate Marketing with DealMachine
Beyond a strong marketing plan and thoughtful marketing strategy, to scale your real estate investor marketing business, you need powerful tools like DealMachine's comprehensive technology stack. With the right tools, you can scale better with higher profits, not just more revenue. Send direct mail, text messages, see real-time ROI, and manage your customer relationships all in one app. Start your free trial today!