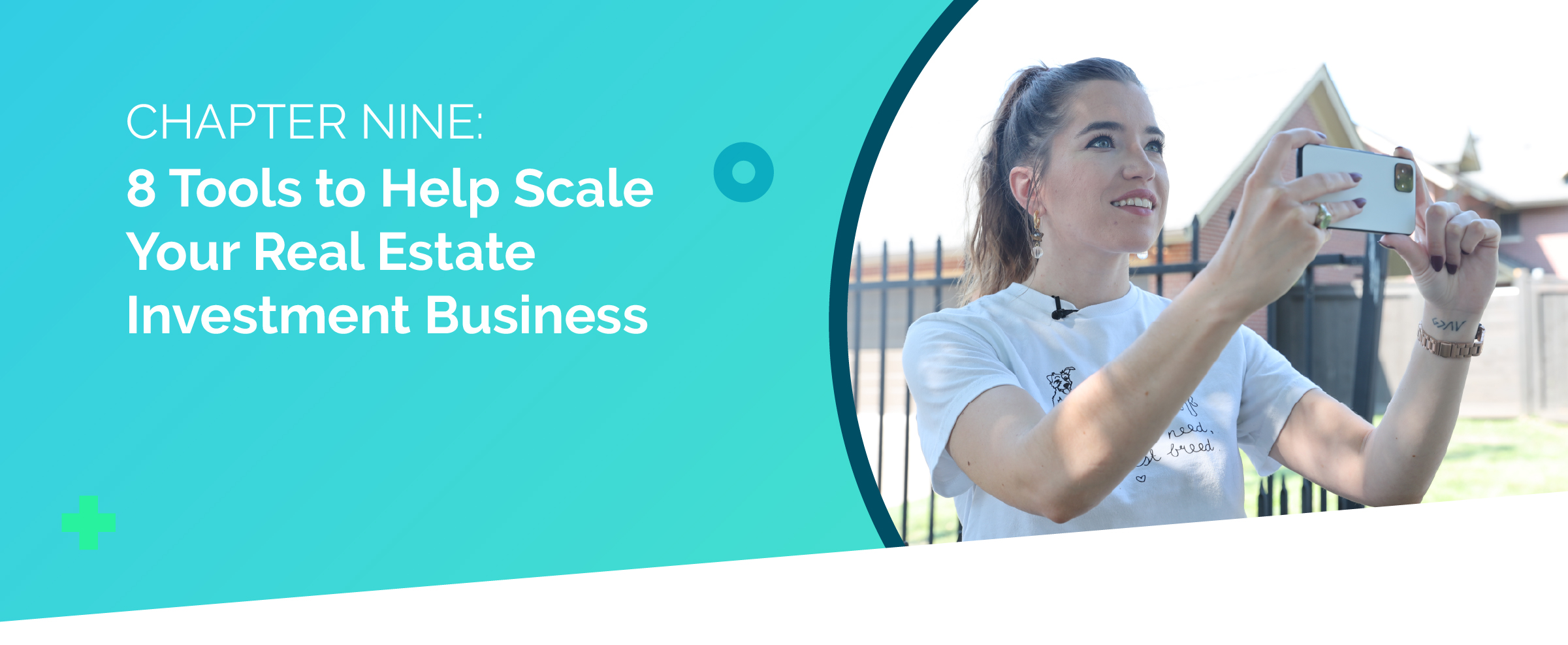 Getting Started
Deals: Start To Finish
KPIs & Measuring Success
Accountability, Management, & Team Building
Efficiency & Tools
8 Tools To Help Scale Your Real Estate Investment Business
June 20, 2021 6 minute read
Are you looking for the best real estate tools to help you scale your real estate investment business? Technology provides a way to improve efficiency and increase profitability all while making operations easier and less time-consuming. In this chapter of our guide, we'll go over the best real estate investment software that will enable you to successfully scale and close more deals.
1. Property Information Software
You need accurate property information when looking for real estate investments, and searching multiple databases or sources takes a lot of time. Instead, save time by using real estate software tools that compile all the data you need in one place. Property information software lets you run property searches, view up-to-date property records, run comps, and more.
Features to look for:
Up-to-date property records
Comparable home sales
Owner contact lookup
Rehab estimator

Fully functional mobile app with 100% of the desktop features, not just a limited mobile companion to a desktop app
2. Customer Relationship Management (CRM) Software
A CRM is a must-have real estate software solution for any real estate investment business. Your customer relationship management (CRM) software lets you track everything from your first call to when you close the deal. Following up with leads is imperative for your business, and most CRMs include automatic reminders to ensure you never leave a lead behind.
Going back and forth between different applications and software programs is inefficient and can be frustrating. Use a CRM that is either integrated with your other real estate tools or is capable of being integrated using Zapier or another program that integrates web applications.
Features to look for:
Tracking abilities for leads and properties
List segmentation
Tagging based on specific criteria
Automatic follow-up reminders
3. Direct Mail Marketing Software for Real Estate Investors
Direct mail might seem like an old-school marketing approach, but it's still around because it's highly effective. Using real estate tools like marketing software to send direct mail is a necessity when you scale your real estate investing business. It takes multiple mailers to get a response from a lead, and software lets you target motivated leads and streamline the process.
Find a service that lets you customize your mailers, offers the option to choose handwritten letters, direct mail postcards, and auto-sends follow-up mailers on a chosen schedule. It is also important to use direct mail marketing software that lets you skip trace records to ensure your mailers are sent to the right person and address.
Features to look for:
Customizable mailers
Handwritten letters
Automatic follow-ups

Ability to upload your own design file

Design capabilities in-app
4. Email Marketing Software
To scale your business, you need real estate software solutions that make it easy to send personalized email marketing to multiple leads at once. Email marketing software does exactly that. Look for software that allows you to store all your lead information and is capable of segmenting your lists so you can send specific emails to leads with certain criteria.
Another capability you want your email marketing software to have is campaign scheduling. Instead of having to manually re-send emails, let effective real estate tools take this task off your to-do list and use email marketing software that allows you to schedule repeat sends. This way, your leads are given the attention they need to generate business while you have time to focus on other tasks.
Features to look for:
Personalized emails
Segmented sends
Campaign scheduling
5. Website Builder
Most people will go to your website before they ever pick up the phone to call you and 97% of people learn about a company online. Having a website that drives conversions is key to helping you scale your business. You want a potential lead to like what they see and to feel compelled to take the next step. To get these results, you need a website that attracts motivated sellers.
Various companies offer website templates you can customize to align with your brand image. Use a website builder that delivers high-converting website templates that will draw your leads in and encourage them to contact you and your team. The best real estate investment software will generate more deals for you without you having to do a thing.
Features to look for:
Fully customizable
High-converting templates
Tracking capabilities

Ability to upload property pictures for marketing properties

Seamless integration with your CRM

SEO tools

Extremely fast load times

Judged by the Alexa website performance browser plugin
6. Cold Calling Real Estate Software Solutions
Cold calling is one of the most proven ways to generate leads for your business. As effective as the method is, it takes a lot of time and is not always done efficiently. Rather than placing cold calls yourself, use real estate tools like cold calling software that allow you to call multiple numbers quickly.
Most cold calling tools can place the call for you with a predictive dialer that only connects answered calls to your team members. This type of software has a tremendous impact on how many calls your team can make, and this increased efficiency maximizes your outreach to leads. It's a simple numbers game, and the more calls you and your team can make, the more deals you'll get.
Features to look for:
Multi-call function
Predictive dialer
Call analytics
7. Driving for Dollars App
Driving for dollars is one of the most cost-effective methods of generating leads, and it comes with a much higher return on investment (ROI). You may have started out driving around neighborhoods yourself but to scale your business, you need to delegate this task and find an effective way to manage your drivers.
A driving for dollars app can help keep your team organized and focused so you can get more deals. Your entire team can use the app's map to know exactly where team members have already driven and avoid driving the same street twice. Hire a team of drivers and see exactly when and where they drive and how many properties they add so you can pay them accurately.
Our experience has shown us that in most cases, driving for dollars yields four times the ROI of mail campaigns which means you can save time and money by using driving for dollars software for real estate investors.
Features to look for:
Real-time route tracking
Integration with CRM

1,000 or more app store reviews with greater than 4.8 average rankings. This helps you avoid fly-by-night apps that may or may not be around in the future
8. Virtual Assistants
As you build your business and close more deals, it's really important to find ways to outsource work and save yourself time. Although in the beginning, you started out doing every task, as your knowledge about the business grew along with your investments, you've found that some tasks require a tremendous use of your time but are so simple anyone could do them. These are the kind of tasks you want to shift off your plate to a virtual assistant.
According to Forbes, "Virtual assistants are increasingly popular…mainly because they can help in so many different ways." Finding a virtual assistant can be easily done by using a virtual staffing company or popular freelance websites. Depending on your needs and budget, you may opt for an assistant from any number of countries. Outsource as much as makes sense for your business from a single position to a complete team. We recommend using onlinejobs.ph. It's what we use internally, and it makes a great addition to your tool kit.
Efficiently Scale Your Business with DealMachine
All of these real estate tools are integral to help scale your real estate investment business and take it to the next level. Are you ready to scale better, not just bigger™? DealMachine is the leading technology platform that equips you and your team with a full software stack designed specifically for real estate investors.
Target high-quality leads, simplify your deal-making process, and hold your team accountable. Find all the real estate investment tools you need to generate higher profits, not just more revenue, all in one app. Sign up for your free trial to improve efficiencies and start scaling your real estate investment business today!