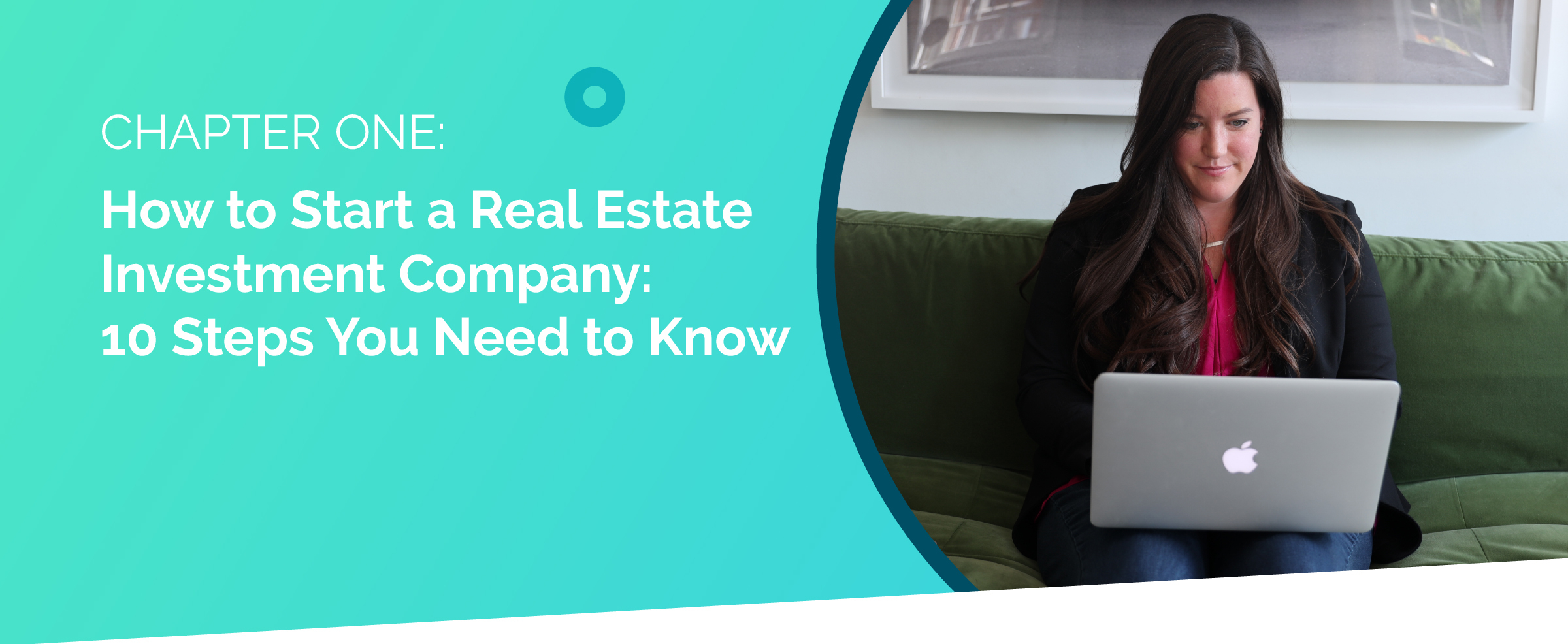 Getting Started
Deals: Start To Finish
KPIs & Measuring Success
Accountability, Management, & Team Building
Efficiency & Tools
How to Start a Real Estate Investment Company: 10 Steps You Need to Know
June 20, 2021 6 minute read
Are you interested in learning how to start a real estate investment company? Maybe you dream of leaving your 9-5 job behind, or you've already left and are ready to pursue more freedom both financially and with your time. Here, we'll go over what a real estate investment company is and provide you with the steps you need to start a real estate investment company.
Types of Real Estate Investing Companies
You have several options when you start a real estate investment company, including the type of business entity and the type of real estate investing you want to practice. Most real estate investment companies are involved in either wholesaling, flipping, or renting. Your business structure will depend on your business operations. Let's go over each of these real estate investment types and discuss strategic business options.
Wholesaling Real Estate
Wholesaling real estate allows you to turn a profit without buying the property yourself. When you wholesale, you avoid improvement costs and don't hold the property over any period. Instead, as a wholesaler, you contract a home – usually a distressed home – with a seller and then find a buyer for that home and assign the contract to the interested party. You can start wholesaling without a large investment because the goal is to assign the contract before the home closes. You earn a profit by finding a buyer willing to pay more for the home than you originally offered the seller. The tax implications of wholesaling real estate include paying taxes on your earned income and paying self-employment taxes. Explore the best cities for wholesaling.
Flipping Real Estate
Flipping real estate involves purchasing a property to resell it for a profit. There is usually a good amount of remodeling that goes into it to increase the value of the home, and there is a wealth of flipping house tips available to help you get started. Remodeling means there will be a variety of third parties working on the property. When you flip real estate, it is considered active income, which means there is an added tax burden of self-employment taxes. Self-employment taxes are extra taxes someone who flips or wholesales homes will pay when compared to a person who rents real estate. Keep in mind that if you hold the property for over a year, instead of paying income tax, you will pay capital gains taxes when you sell the asset.
Renting Real Estate
Renting real estate involves purchasing properties to hold onto them and use them to generate rental income. These types of properties are considered capital assets because the IRS views them as buy-and-hold real estate. There are tax benefits available to you when you own rental real estates such as depreciation and repair and improvement deductions.
Rental real estate comes with its own set of liabilities, so it's important to choose a business structure and/or insurance product that protects your personal finances. Let's go over the various business structures to help you choose the right one for your situation.
Business Structures
Depending on which type of real estate investment company you plan to start, you may consider structuring your business a few different ways. While you can operate your business as a sole proprietorship or a partnership, most people opt to start a real estate investment LLC. A limited liability company (LLC) protects you personally so that you are not liable for debts incurred by your LLC business and cannot be personally sued for business-related lawsuits.
Not only does an LLC protect your personal assets, but it is also a flow-through entity for the owner, which provides a tax benefit to the owner. Business profits flow through the owner's personal tax return and are taxed at the owner's personal tax rate. An LLC also allows for greater flexibility regarding management responsibilities and profit distribution. However, an LLC makes it more difficult to add multiple owners as compared to a C-Corp or S-Corp.
Another business structure that can be common for real estate investors to implement is to form a corporation and operate as a C-Corp or an S-Corp. By incorporating your company, you protect your personal assets and minimize risk. Corporations allow you to sell shares in the business and allow other real estate investors to contribute capital. Keep in mind that corporations are subject to double taxation and that in addition to the taxes the corporation pays, you need to pay taxes on any personal income the corporation pays you.
Before determining your business structure, it may be helpful to contact a corporate accountant or real estate attorney to be sure you select the most advantageous business structure for your real estate investment company.
Benefits of Starting a Real Estate Investment Company
Starting your own real estate investment company comes with many benefits, including financial freedom and a strong investment portfolio. Other benefits you'll gain from starting a real estate investment company include:
Tax benefits and deductions
Limited personal liability by separating investment properties from personal holdings
Complete control of the business you own
Secure income streams
An investment with steady appreciation
How to Start a Real Estate Investment Company
It may seem overwhelming to start your own investment company, but the process is straightforward and can be one of the best decisions you'll ever make. Here are 10 steps for starting a real estate investment company.
Step #1: Conduct Extensive Research
The first thing you should do if you're considering starting a real estate investment company is spending time researching the industry. Obtain a good understanding of opportunities in your market area and who your potential competitors are. Determine what type of real estate investing company is right for you and explore the inventory in your area. It's also important to get familiar with the neighborhoods where you'll be investing by looking at median home values and nearby amenities. Conducting research now will better prepare you to start your business.
Step #2: Consider Your Professional Goals
Before acting, take time to firm up your professional goals and set your course toward the future. To know what steps to take now, you want clear expectations for where you aim to go. Ask yourself where you want to take your career over the next few years and beyond. Once you know your financial goals and business goals, you can strategize what it will take to achieve them.
Step #3: Obtain the Necessary Real Estate Education
When you go into business, you need to have a good understanding of how things work in the real estate realm. While you are not required to hold a degree or license in real estate to invest, you will want to be familiar with key components of the business. It will help if you have a handle on the process of buying an investment property, tax implications, successful investment strategies, risks involved, regulations, and even knowledge of basic real estate terminology. Your real estate education can come from a variety of places like books, blogs, podcasts, and even shadowing a mentor.
Step #4: Get Your Financing in Order
For many beginner real estate investors, obtaining financing for a real estate investment company may seem overwhelming and even somewhat out of reach. Although a significant amount of capital is required at the start, it is possible to finance your business without needing cash upfront. Even still, you do want to be sure your financial standing is in a good place because oftentimes you need to provide your credit report and demonstrate your financials.
Depending on your financial situation, you have options for obtaining investment capital. These options may include:
A mortgage or government loan
Private money lenders
Crowdfunding
Real estate investment partnerships
Owner financing
Step #5: Register Your Business
You'll need to register your business to make your company legitimate. This involves a few steps such as selecting a company name, registering it with local entities, and requesting an EIN for tax purposes.
Step #6: Open a Business Checking Account for Your Business
Set up your Free business bank account for your business with Baselane to easily track your income and expenses, while earning high rewards
Step #7: Write a Real Estate Investing Business Plan
As with any business endeavor, it is vital to write a business plan. A real estate investment company requires a comprehensive plan that outlines the direction your business intends to take as well as sets goals you can adhere to, so you stay on track. If you apply for a mortgage, a loan, or are looking for investment partners, your real estate investing business plan will show them you are serious and have what it takes to succeed.
Some things you should include in your business plan are:
Overview of your company
Short- and long-term goals
A real estate investment strategy
Market research
Financial plan
Marketing plan
Treat your business plan as a living document and as your real estate investment company grows and matures, revise the business plan as needed.
Step #8: Craft Your Marketing Methods
When ready, you'll schedule your first campaign. There are multiple ways to market to your future customers, and they include:
Direct Mail
SMS Text Messages
Email Campaigns
Social Media
Networking
Step #9: Create Your Website
Having a digital presence is imperative in the business world today. Both existing and potential clients will look online for information about your company, and a website allows you to show them what you want them to see. Many different companies offer templated websites for a reasonable monthly fee that look highly professional and are customizable.
Step #10: Develop Your Real Estate Team
When you first start a real estate investment company, you might think you need to fly solo and fulfill every role yourself. It turns out, however, that by building a team you'll be able to accomplish much more and will also prevent yourself from feeling completely overwhelmed. By working with real estate professionals, you can lean on people highly skilled in specific areas of the real estate investment process. When you are ready and have enough work, build a team that is comprised of:
General contractors
Real estate agents
Property managers
Accountants
Step #11: Start Searching for Investment Properties
Once you have spent time and energy establishing your real estate investment company, it's time to do what your business is meant for and discover your first investment properties. To find more profitable leads, start driving for dollars. To scale your business, learn how to recruit drivers so you have a team of people that generates a list of unique properties other investors don't have.
How Much Money Does It Take to Start a Real Estate Investment Company?
How much money you need to start a real estate investment company depends on multiple factors. Regardless of the type of real estate investment company you start, there are the same initial costs such as filing your business name and registering your business, both of which depend on what state you live in. Beyond those expenses, your marketing budget will also vary greatly based on what initiatives you put in motion. It is best to calculate all costs before starting your business to ensure you have the proper funding.
As for the investment properties themselves, most real estate purchases require a down payment of 20% which for a $100K home, equals $20K. If this seems like a number that is out of reach even for loans, you may want to consider starting as a wholesaling business.
When you wholesale, you do not need to put your own money down. Instead, your initial funding goes toward finding and signing a contract for a property and then marketing the property you're looking to assign. While the need for each property varies, you probably want to save up at least $1,000 to start wholesaling. You'll spend this money driving for dollars or locating ideal properties and marketing to sign a property and then later assign it.
Successfully Manage Your Real Estate Investment Company With DealMachine
Are you ready to start a real estate investment company? You can rely on DealMachine for the ultimate integrated platform for real estate investor teams. Our comprehensive software stack targets high-quality leads and simplifies the process of holding team members accountable so your business can grow. DealMachine's real estate lead management system manages your leads for you. Close more deals in less time with DealMachine. Start your free trial today!