We Make Real Estate Task Management Easy
Let our real estate assistant software automatically complete thousands of simple, but repetitive tasks that need to get done every week. With our real estate automation platform, you can completely customize and automate your marketing efforts and follow-up tasks. DealMachine Workflows helps you find more opportunities, target your marketing efforts, and stay on top of deals so you never let one slip through the cracks.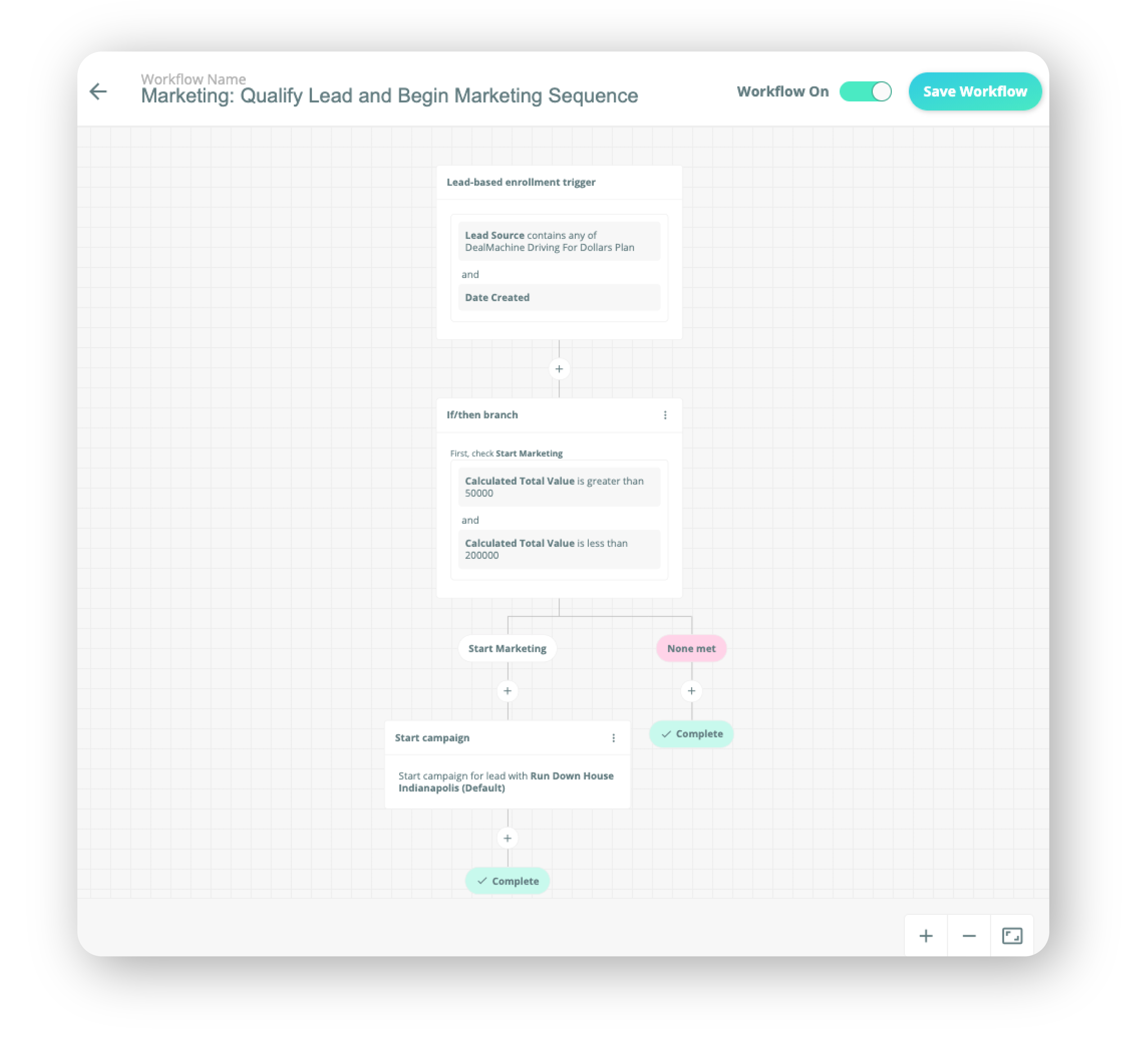 How does DealMachine Workflows improve your real estate task management? Simple. Our powerful real estate workflow software is capable of handling thousands of tasks and processes so you and your team can focus your time and energy where it's needed most. Spend your valuable time working with sellers, negotiating deals, and building relationships rather than completing time-consuming repetitive tasks.
DealMachine Workflows is the solution you've been looking for to help you streamline your business and drastically improve efficiencies. Our real estate task management software lets you:
Automate simple, repetitive tasks and processes.

Customize automation based on your business.

Rest assured it is always on and working for you.

Connect up-to-date property and seller data directly to your marketing and acquisitions pipeline.

Ensure you never miss a deal.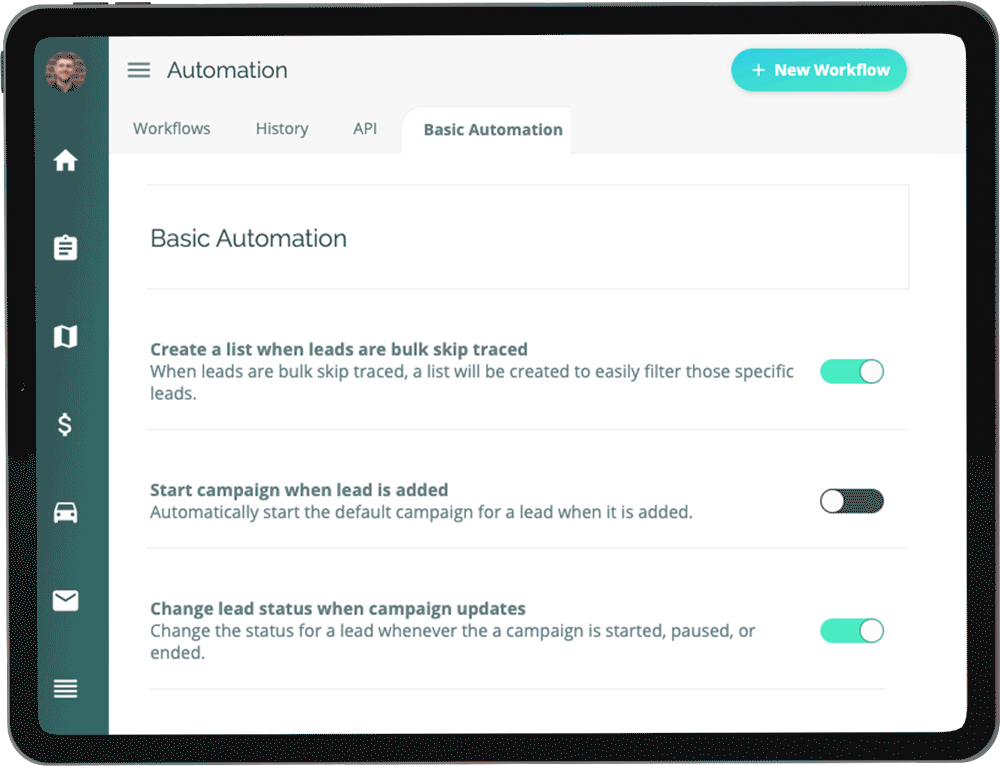 Real Estate Automation Software
The right real estate automation software delivers a powerful, superior solution and has several advantages over a real estate virtual assistant. You may have considered hiring more employees or virtual assistants to handle repetitive tasks for you. While this could work if you already have straightforward processes, it still takes time, energy, and resources to recruit, hire, and train new team members. Then, what do you do if a new hire quits, goes on vacation, or calls in sick? If you don't have another team member available to fill in, how can you keep processes running smoothly?
Another concern is that anytime you hire a person, there is always a chance of human error. Data entry might be delayed, information could be entered incorrectly, or processes might not be followed as closely as needed. Even small mistakes might make you lose confidence in the accuracy of your data and processes.
DealMachine Workflows solves all of these potential challenges. Save time and resources by implementing real estate automation software instead of hiring more employees. Ensure processes are consistently followed and data integrity is upheld with a real estate workflow platform that is always on and is customized to your business needs. Drive efficiencies and boost profits with the help of real estate assistant software built for real estate investors.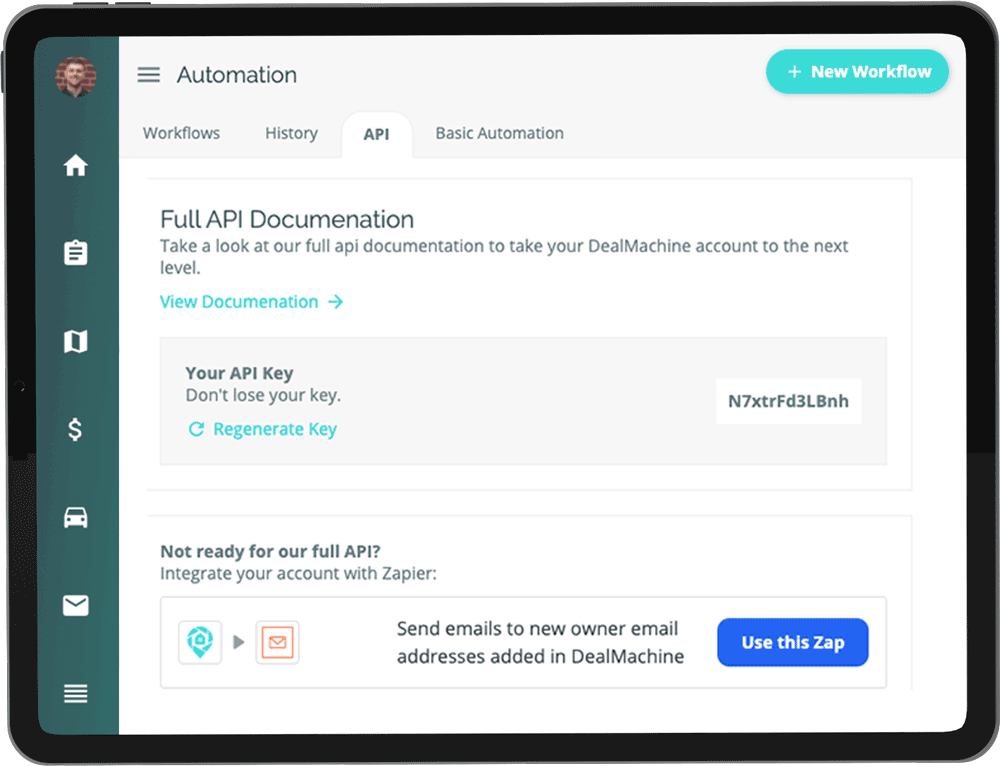 Choose Our Workflows Software to Free Up Your Real Estate Virtual Assistant and Eliminate Errors
Get the most out of your software by choosing DealMachine Workflows. Our real estate virtual assistant software gives you the tools you need to succeed, and it integrates seamlessly with DealMachine's core plans and other features. Automatically complete thousands of repetitive, simple tasks every week and completely customize your marketing strategy. Choose which properties to market to, how much marketing to send, and automate your follow-up tasks. Uncover more opportunities, stop wasting marketing dollars, and stay on top of deals so you never miss a chance for profits. Optimize your REI business with DealMachine.
Does DealMachine have a CRM?
DealMachine offers these features: Tasks, Custom Fields, Custom Pipeline, Notes, Team member collaboration, ROI tracking, dashboards, and API integrations. Although we don't have a plan called "CRM," DealMachine allows you to purchase the features you need to run your business.
Do I need to use Zapier with DealMachine Workflows?
No, you do not need to use Zapier. You are welcome to use your existing Zapier subscription to connect DealMachine to other apps, however, we have designed DealMachine Workflows, so you don't have to use or pay for an external Zapier subscription.
Will I need a real estate virtual assistant if I have DealMachine Workflows?
DealMachine Workflows can handle many manual tasks that your VA may be doing, including exporting certain properties routinely, keeping properties up to date that have been modified in another system, list cleansing, notifications, integrating multiple software platforms.
What can I do with DealMachine Workflows?
DealMachine Workflows keeps your REI business running smoothly by automatically completing the thousands of simple, but repetitive tasks you need to do weekly. Completely customize what properties you're marketing to, how much you're marketing and your follow-up tasks to every property in your active sales pipeline. Bottom line, Workflows helps you find more opportunities, eliminating marketing waste and errors so you find more deals for less money.
What are some example Workflows?
Lead Generation: When your driving for dollars team adds a run-down property, only start mail if it meets your "buy box" of $50,000-$200,000, 3bd, has not sold in the last 3 years.
Targeting: Any lead entered into my system that doesn't meet my buying criteria automatically changes to "Unqualified."
Marketing: Any lead that is owner occupied gets assigned to my "Owner occupied" marketing mail sequence. Any lead that is absentee owned, gets assigned automatically to that respective marketing mail sequence.
Acquisitions: If a lead has called about selling their property, however, the acquisitions manager has not added any notes in the last three days, re-assign the lead to another acquisitions manager and send a notification about the change to the team.
Dispositions: Send a celebratory email to all of my team members when a deal status is set to "Under Contract / Ready for Sale".
What other DealMachine plans work with DealMachine Workflows?
All of DealMachine's core plans and features, including Driving for Dollars, List Builder, Batch Skip Tracing, Real Estate Data, and Real Estate Direct Mail, are integrated seamlessly with DealMachine Workflows in one app.
Do I need other DealMachine plans in order to use DealMachine Workflows?
No, you may purchase DealMachine Workflows with or without other DealMachine plans.
Can I monitor ownership changes to properties with DealMachine Workflows?
Yes, you can monitor ownership changes to properties in your DealMachine account, and trigger actions such as "stop mail" or "change pipeline status to unqualified" with ownership changes.
Do I get access to custom fields or a custom deal pipeline with DealMachine Workflows?
Yes, the Pro version includes 3 custom fields, the Elite version includes unlimited custom fields, and also a custom deal pipeline.
Does DealMachine have a public API?
Yes, Elite workflow customers receive access to our public API. Here's a link to the documentation.